Member Dental Home Assignments
LIBERTY Dental Plan is temporarily removing the requirement of Member Dental Home Assignment.
Effective immediately your office will only need to verify Eligibility prior to scheduling and treating our Medicaid enrollees. The enrollee does not need to appear on your roster in order to be seen. Additionally, based on claims received LIBERTY will transfer your patients to your office for you.
Members DO NOT need to call to transfer, if they require a transfer they can complete the transfer on our website.
Please refer to the provider alert Florida Medicaid Dental Home Assignment Relief sent on 1-23-2019 and posted on your secure provider portal for waiver period in your Region.
Provider Reference Guides
SMMC Provider Webinar Training
Florida Medicaid Dental Plan Continuity of Care
The Agency for Health Care Administration (Agency) contracts with Medicaid Dental Plans to provide dental services to dental plan enrollees in the Statewide Medicaid Managed Care (SMMC) program. The Agency recently entered into a contract with LIBERTY Dental Plan (LIBERTY) as one of three statewide Medicaid Dental Plans.
LIBERTY Dental Plan is required to ensure continuity of care (COC) during the transition period for Medicaid recipients enrolled in the SMMC program. The transition will occur by Region in 3 Phases, beginning with Regions 9 through 11 on December 1st: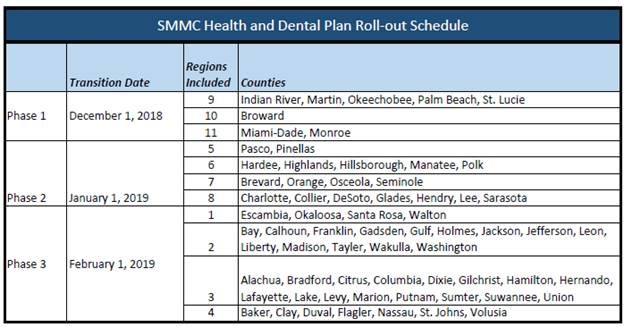 COC requirements ensure that when enrollees transition from one health or dental plan to another, one service provider to another, or one service delivery system to another (i.e., fee-for-service to managed care), their services continue seamlessly throughout their transition. The Agency has instituted the following COC provisions under its contract with LIBERTY:
Dental providers should not cancel appointments with current patients.

For 120 days after the roll-out date in each region, LIBERTY must honor any ongoing treatment that was authorized prior to patient's enrollment into LIBERTY as their Dental Plan.

Providers will be paid.

Providers should continue providing any services that were previously authorized, regardless of whether the provider is participating in LIBERTY's network. LIBERTY must pay for previously authorized services for up to 60 days after the roll-out date in each region, and must pay providers at the rate previously received for up to 30 days.

Providers will be paid promptly.

During the continuity of care period, LIBERTY is required to follow all timely claims payment contractual requirements. The Agency will monitor complaints to ensure that any issues with delays in payment are resolved.
More information about COC provisions can be referenced on the COC program highlight document, which is posted on the Agency's website at www.ahca.myflorida.com/smmc

. Once on the page, click Program Changes, then the Outreach and Presentations link.
CMS Training Requirements
All LIBERTY Dental participating providers are required to complete the following training modules each calendar year:
Critical Incident Training
Code of Business Ethics & Conduct
Cultural Competency Provider Training
Fraud, Waste & Abuse Training
General Compliance Training
Access LIBERTY's Provider Training site.

File a Grievance or Appeal
To submit a written Grievance or Appeal, please use the link below to print and mail to LIBERTY Dental Plan, or complete the online form below.
Language Assistance
This information is available for free in other formats. Please contact our customer service number at 1-833-276-0850 or TTY 1-877-855-8039 Monday through Friday from 8:00 a.m. to 8:00 p.m. (ET).
How do I report Fraud, Waste and Abuse?
To report possible unethical business practices or potential illegal activity regarding our health Plan, our providers, vendors, or recipients, you may contact LIBERTY:
Compliance Hotline: (888) 704-9833
Submit a FWA concern online

E-mail: compliance@libertydentalplan.com
Mail: LIBERTY Dental Plan Compliance Department
P.O. Box 15149
Tampa, FL 33684
You may remain anonymous if you prefer. All information received or will be treated as confidential, and the results of investigations will be discussed only with persons having a legitimate reason to receive the information.
Satisfaction Survey Results